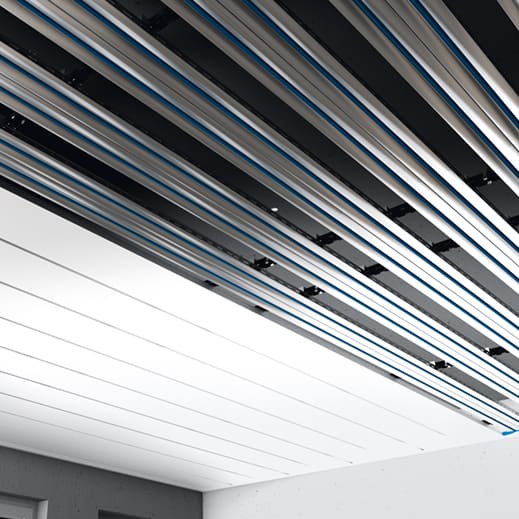 Metal Panels
The Robust One

This construction was primarily designed for use in sports halls. But this high-performance ceiling with a surface made of aluminium has also been installed in other areas, such as car dealerships or foyers.

The special feature of this ceiling is its use in sports halls. The fact that the heat conduction technology is not installed in the form of copper/aluminium registers in the ready-to-surface aluminium panels ensures a unique inherent static.

The technical basis of the Linear ceiling is a flat, pressure-rigid suspended heat conduction system consisting of roll-formed aluminium omega profiles. The slightly convex rolled panels are only clipped into the construction after completion of the large-area heat exchanger.

The result is a visually very variable and attractive ceiling that has a much more sustainable statics than the test specifications (DIN 18032).

The water-carrying pipes consist of diffusion-sealed composite pipes, which are inserted into the profiles on site. The defined transition point to the on-site HVAC is our control loop distributor with patented plug-in fittings.

The solution approach with a control loop distributor, in which one ball valve per beam is installed at the factory, replaces the otherwise necessary internal piping and thus ensures that the transfer point to the technical building equipment does not take place in the grey zone of the ceiling cavity, but is clearly and tangible defined.

In addition to water quantities and pressure losses in the zones and circles, our hydraulic designs also show the dimensions of the distributor and the maximum pipe lengths. The fine adjustment of the water quantities is carried out during commissioning on the fixed Taco-Setter of the manifold.