Products / Metal Cassettes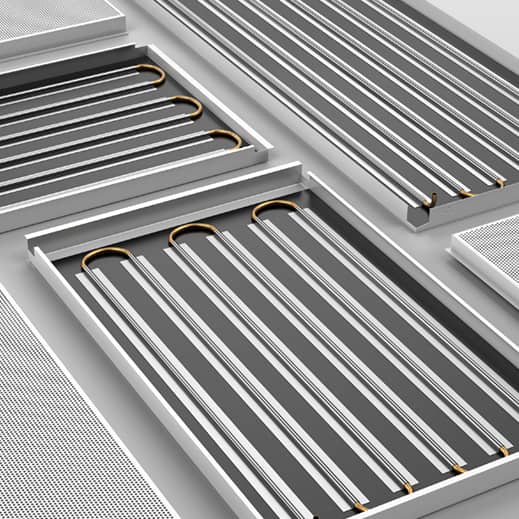 Metal Cassettes
The Universal One

Particularly in office buildings with recurring geometries and control zones, the use of thermally activated metal cassette ceilings has often proved its worth. We are able to offer any kind of metal ceiling construction with visible substructure or with a hidden construction. CLIMALINE plans your metal climate ceiling to suit the building and the physical requirements.

All finesses of a metal ceiling, whether it concerns the hole pattern, the edge formation, the wall connection or also the surface coating, can be illustrated by us. Any form of built-in parts can be either planned by us or supplied integratively.

The high power density of this innovative cooling technology usually allows a generous axial dimension between the copper tubes, which leads to a higher free cross-section of the perforated surface and thus to a considerably improved sound absorption behaviour of the ceiling.

The heat exchanger in our closed metal ceilings always consists of a patented copper tube technology with rolled heat conducting profiles as aluminium hat profiles. The individual registers are connected to each other by stainless steel-covered flexible hoses.

In addition to water quantities and pressure losses in the zones and circles, our hydraulic designs also show the dimensions of the distributor and the maximum pipe lengths. The fine adjustment of the water quantities is carried out during commissioning on the fixed Taco-Setter of the manifold.