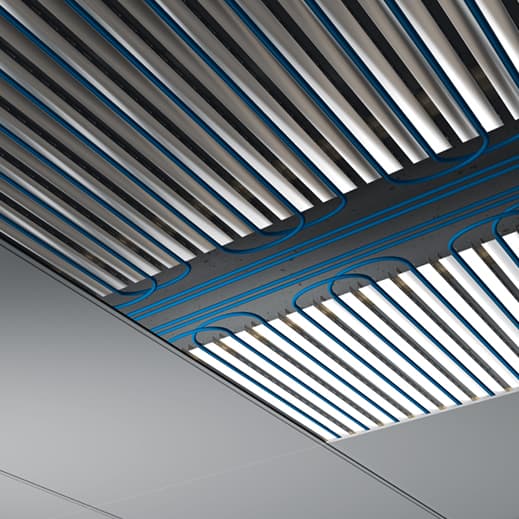 Gypsum Type D
The Slender One

Plasterboard planked cooling and heating ceiling systems are needed first and foremost in renovation, in the attic or in modular construction. With our system Gypsum type D (for direct fixing) we offer an extremely slim construction with 59mm preplanked construction height.

We do not supply you with prefabricated registers for the construction project and we do not force you into a fixed assembly corset. Our solution "from the shelf" is hardly to be surpassed in flexibility. Roll-formed heat conducting profiles made of aluminium also serve as a construction profile into which the planking is screwed at the end.

Short-term changes in the ceiling plans, such as the relocation of a luminaire or other installation part, can easily be made without having to rethink the entire planning and without producing enormous costs.

The water-carrying pipes consist of diffusion-resistant composite pipes, which are inserted into the profiles on site. The defined transition point to the on-site HVAC is our control loop manifold with patented plug-in fittings.

Our solution with a control loop manifold in which one ball valve per beam is installed at the factory replaces the otherwise necessary internal piping and thus ensures that the transfer point to the technical building equipment does not take place in the grey zone of the ceiling cavity, but is clearly and tangible defined.

In addition to water quantities and pressure losses in the zones and circles, our hydraulic designs also show the dimensions of the manifold and the maximum pipe lengths. The fine adjustment of the water quantities is carried out during commissioning on the fixed Taco-Setter of the manifold.