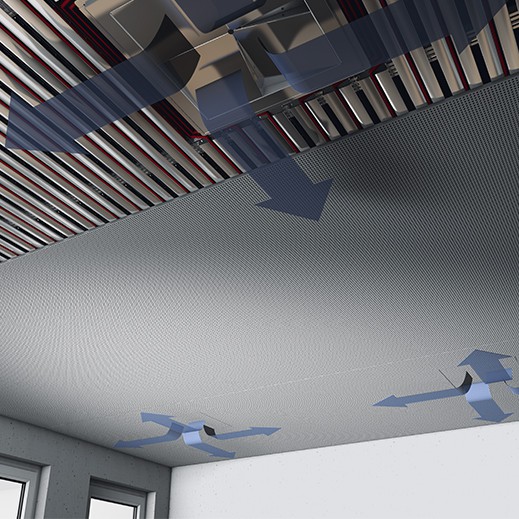 Airframe
The Integrated One

In modern building planning, the balance between the necessary fresh air supply and the efficiency of a cooling ceiling is almost always used as a basis.

The integration of air outlets is therefore a recurring question. The CLIMALINE Airframe is an elegant solution, both for monolithic plasterboard climate ceilings and for the CLIMALINE Thermo Panel 4T as much as well as our metal surface systems.

Seamless integration into a continuous, filled gypsum ceiling enables a frameless inspection opening, the lid of which is lined with a carton-laminated sheet metal cassette instead of plasterboard.

The diffuser designed for this purpose is only placed on this frame and the air is elegantly directed 360° along the ceiling surface. This prevents draughts and the AirFrame is virtually invisible after the ceiling has been painted.

The AirFrame works very similar in the use of our cooling ceiling Thermo Panel 4T. Instead of a plasterboard cassette, we deliver a metal cassette with exactly the same perforation as the surrounding gypsum tiles. We deliver the metal cassettes with a powder coating, which makes the difference to the surrounding gypsum tiles almost invisible.

Here, too, the diffuser is only placed on the substructure and flanges directly onto the air-carrying tiles.

In both versions, the attached air box has a 125 mm thick connection pipe, which the fitter can use to connect the unit with a flexible hose from the ventilation manufacturer, according to our always considered interface theory.